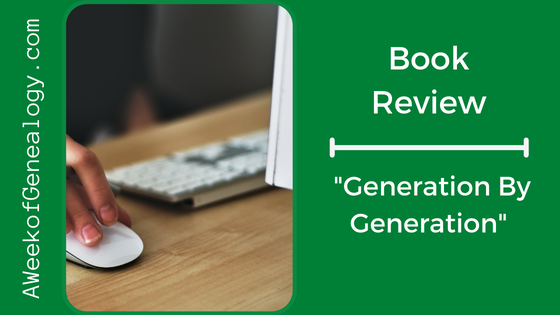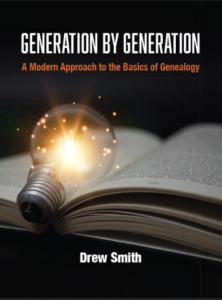 With a wealth of knowledge and experience in researching, lecturing, and teaching others, Drew Smith has now turned his efforts to create a book for those who are beginning their genealogical research in the United States. "Generation by Generation: A Modern Approach to the Basics of Genealogy" is a concise way for new genealogists to benefit from Mr. Smith's wisdom as well as enjoy his warm and approachable manner. He makes good use of analogies and examples so that the content is manageable by even the most novice researcher.
Part I of the book lays a solid foundation of key knowledge and skills a reader needs to conduct successful genealogical research. In Part II, readers are guided while they actually research their own ancestors. The book lends itself to navigating through its sections in order, supporting the reader with both a table of contents and an index.
The topics covered in Part I are important to understand and practice for successful research outcomes. Given that understanding cousin relationships can be tricky, the book is specific with regard to those relationships. Topics from changing calendars to DNA are presented clearly and painlessly throughout. As I was reviewing this section the book, I found that just as I would wonder, "will he tell beginners about…," he did! The breadth of those examples ranged from genetic recombination and to ethics of DNA testing to the fact that the records of the Freedmen's Bureau also include records of employees. The importance of introducing the genealogical research process and the Genealogical Proof Standard (GPS) to new genealogists cannot be overstated. The book conveys an appreciation of citing sources, while eliminating the fear of them.
A key part of researching using "Generation by Generation" is helping a new researcher travel back in time, organizing how they will research within each time frame of generations of ancestors. The book provides descriptions of which records are appropriate for each time frame. With Mr. Smith's guidance, the researcher steps backwards through their US ancestors' generations who lived during the time periods: 1950 to now, 1880-1950, 1850-1880, 1776-1850 and pre-1776 British America. Mr. Smith also supports readers as they start to tackle researching their ancestors back to their European or Canadian roots. These divisions are logical, and it would be straightforward to follow the book's structure to approach personal research or formulate a syllabus for a class or study group.
Another feature is due to the printing process. The chapters that contain an odd number of pages include a blank page at the end. These blank pages are an ideal location to enter notes and record questions.
This is a book to both read and use. It is a way for a reader to bring Mr. Smith home and have him alongside while taking significant steps to research their family history. Using Part I to learn the main ideas and terminology, and pitfalls, prepares the reader to be ready to do their own research using Part II, and have a good foundation before advancing into more detailed research.
The book is available at Genealogical.com and other booksellers.
Notes: A review copy of the book was provided by the publisher. Like many other genealogists, I am a fan of The Genealogy Guys podcast, and recognize both of its hosts for service to the genealogical community.
This blog post is copyright ©2023 by Margaret M. McMahon. All rights reserved. No part of this post may be reproduced in any manner whatsoever without written permission, except in the case of brief quotations in articles and reviews. All copyrights and trademarks mentioned herein are the possession of their respective owners and the author makes no claims of ownership by mention of the products that contain these marks.