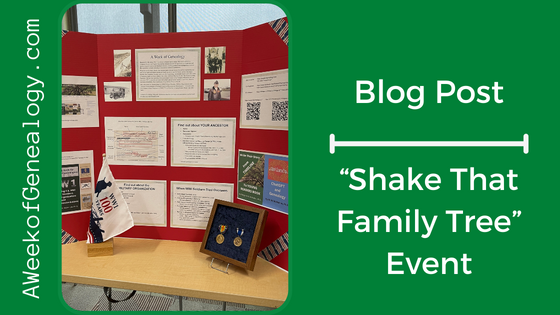 On 14 October 2023 the Howard County Genealogical and Historical Societies and the Howard County Public Library System organized the "Shake That Family Tree" event at the Miller Library in Ellicott City, MD. This was intended as a beginner-level event, but there was certainly great information for all the genealogists who attended.
I was delighted to have been invited to host a table about military research and my books. All day long there were interesting talks, and a room full of tables with representatives from local history and genealogical societies who were eager to share information about what they were doing and offer help to genealogists at all levels.
Many of the people who stopped by did not know if they had ancestors who served in WWI. The best place to check is the FamilySearch database for the VA Master Index, which has been covered in this updated blog's post "Did My Ancestor Serve in WWI?" to reflect the changed search interface.
The Howard County Genealogical and Historical Societies and the Miller Library hosted a wonderful event, and it is certainly my hope that this might become an annual event!