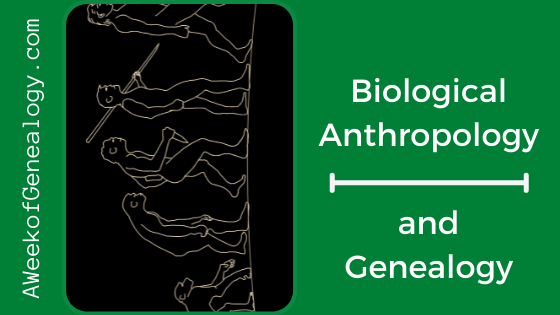 This past semester I decide to follow the archaeology course by studying more about anthropology. I took a course about Biological Anthropology (also known as Physical Anthropology). As a reminder, there are four branches of Anthropology, with the other three being Archaeology, Cultural Anthropology and Linguistic Anthropology. (See my blog post about Archaeology and Genealogy.)
Biological Anthropology is a course for gaining a deeper understanding of how humans came to be. It is also a course that provides a strong foundation for understanding DNA. Most genealogists have incorporated the use of DNA to some extent, and this was a major selling point of the class for me. The understanding of evolution taught during this course may be more than the average genealogists who use DNA as a tool need, but it was interesting to learn about our species' ancestors and our recent hominin cousins. I found that understanding how ancient DNA relates to our DNA gave a deeper context. It was informative to learn the newer findings about Neanderthals and their culture, as well as Denisovans, and both of their contributions to our DNA.
Using DNA in our genealogy is complemented by learning about mutations, genetic drift, gene flow, population bottlenecks and founder effects build a strong background for understanding DNA in populations. Epigenetics covers the changes we make to our DNA over our lives, and how that might be passed on to future generations. These topics help us move forward in understanding more of the what is recorded in our DNA test results and comparisons with others. This is also the hardcore science when you are viewing mutations in YDNA or mtDNA. For people who like to understand the internal workings of nuclear DNA, how it forms proteins, and how the mitochondria work, this course sheds light on those topics as well.
For my final project, the Professor encouraged me to create a final project that was not in a report format. It was an interactive project that I created in about the Bioethical Issue: Use of Genetic Information. It is included case studies of biobanks, law enforcement use of consumer DNA testing and medical studies where consumers upload DNA. The additional step was to show the contribution of anthropologists to understanding and communicating the bioethical issues.
The textbook we used was "EXPLORATIONS: An Open Invitation To Biological Anthropology." It is available for free online at https://explorations.americananthro.org You can choose read the book online or download chapters. Chapter 3 discusses molecular biology and genetics, including genotypes and traits, DNA replication and the cell cycle, transcription and translation during protein synthesis. Chapter 4 discusses population genetics. A video for each chapter can be found at this YouTube playlist.
Biological Anthropology can help us to know and understand more about genetics as well as about our deepest ancestry.
What's next for me? Hopefully I will be taking Cultural Anthropology in the Fall.
This blog post is copyright ©2022 by Margaret M. McMahon, Teaching & Training Co., LLC. All rights reserved. No part of this post may be reproduced in any manner whatsoever without written permission, except in the case of brief quotations in articles and reviews. All copyrights and trademarks mentioned herein are the possession of their respective owners and the author makes no claims of ownership by mention of the products that contain these marks.