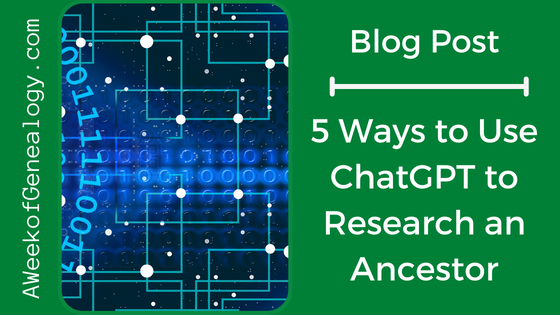 You may have been wondering how ChatGPT can help with genealogical research. This is a first look at using ChatGPT for research about a specific ancestor. For simplicity our conversation focused on where to find information, rather than on more complicated topics. ChatGPT held its own in our conversation, and was a pleasant companion and offered answers based on its training.
You can view our other posts about Artificial Intelligence, Artificial Intelligence and Genealogy and Getting Started with ChatGPT for when you are ready to try it!
NOTE: DO NOT ENTER PRIVATE OR SENSITIVE DATA INTO ChatGPT. Your data is used for training, and is reviewed by OpenAI to verify that content complies with their policies and safety requirements. They may be used for training purposes.
1. Ask ChatGPT general questions. Unless your ancestor is notable or famous, your main benefit will come from looking for general information about individuals with similar origins, living conditions or professions.
In my ongoing research into using ChatGPT for genealogical research, I decided to focus on one ancestor who has been a brick wall.
I started by asking if ChatGPT knew my ancestor. I did not expect an answer for an ancestor who was not a public figure, but I thought I would ask.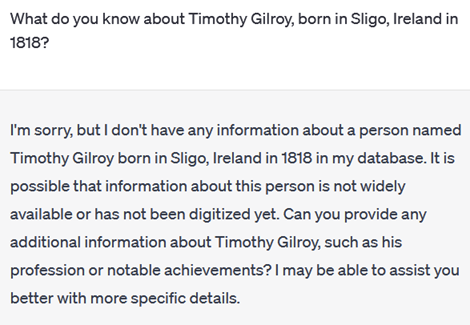 2. Forming questions/prompts is an important part of getting the most out of conversations with ChatGPT. Sometimes you need to rephrase or reformulate your approach to obtaining information.
I thought that ChatGPT might have more general information about immigrants from County Sligo, Ireland, so I asked a more general question::

ChatGPT answered with general information about Sligo immigrants, sharing their reasons for emigrating and where they tended to settle in the United States, and which popular professions they chose.
3. ChatGPT cannot footnote its answers. It can give sources that were used to build its knowledge base.
When I asked what sources ChatGPT what sources it used for the answer about Sligo. Since it is a trained artificial intelligence, and not a lookup service, this is like asking a person on the street to cite the sources for the statements they make in conversation.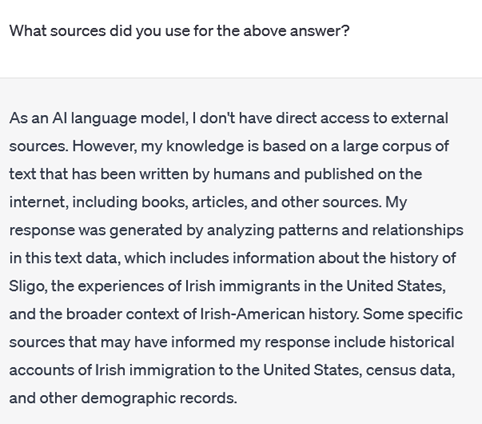 In response, I reformulated my question:

ChatGPT offered five suggestions. This was more successful, until it was not. The suggestions were solid, but the details behind them were sometimes general and may not be up-to-date. (Remember, ChatGPT knows nothing of the world since 2021 and is NOT connected to the Internet.) The description it offered for civil registration records did not include the fact that many can be found online for free. The census records advice was factual about when censuses were conducted, but did not relate that only fragments exist for other than 1901 and 1911.
Civil registration records
Church records
Census records
Local history resources
DNA testing
4. Given a list of facts, ChatGPT can write a smooth narrative.
Next, I entered a text version of a timeline for Timothy Gilroy's life. The text was copied then pasted into the prompt.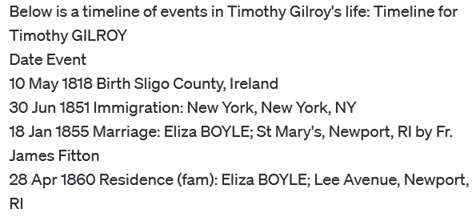 ChatGPT interpreted the data correctly, and fed back a narrative incorporating the facts. This was how I gave ChatGPT the data for my next questions.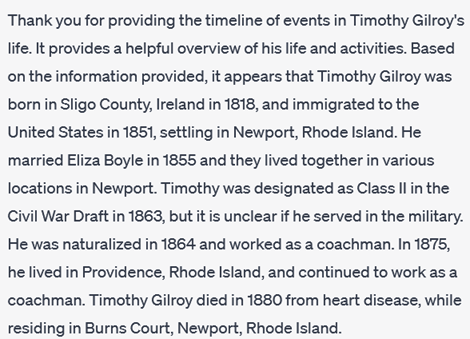 5. ChatGPT can make good research suggestions. Treat ChatGPT's research suggestions as hints. Be ready to investigate the leads it gives, keeping in mind that it may not know every aspect of every record set.
Remember that you are having a conversation with ChatGPT, and it remembers previous input in the same chat.
Next I asked: Can you suggest genealogical research ideas for Timothy Gilroy
ChatGPT pleasantly answered with a list of ideas. (Details of each item are omitted for brevity.)
Research his family in Sligo County, Ireland
Find records of his immigration
Locate records of his military service
Explore his occupation
Investigate his naturalization record
Look for church records
Conduct DNA testing

Since these were just "some" ideas, I asked: Do you have additional ideas?
ChatGPT was more than willing.
Explore the neighborhood where he lived
Investigate the history of Irish immigrants in Newport
Search for newspaper articles
Consult with local historical societies or genealogical societies
Utilize online genealogical resources

ChatGPT is ready and willing to help us research our ancestors. We have to be clear in our conversations, and be ready to ask questions from different perspectives. Overall, the ideas ChatGPT offered were sound. Of course, they were general and did not have all the potential constraints. ChatGPT stressed learning about context in many of the research questions, which was good. Of course, be sure to use its suggestions as just that, and not definitive facts.
The above conversation was with ChatGPT Mar 23 Version. Free Research Preview.