Learning the military organization for your ancestor who served in WWI is important. With that information, you can find out what your ancestor did including duties, travels and battles. The State Library & Archives of Florida's Florida Memory website has a Collection of World War I Service Cards. This collection includes the cards for Floridians in the Army, Navy, Coast Guard and Marine Corps during WWI.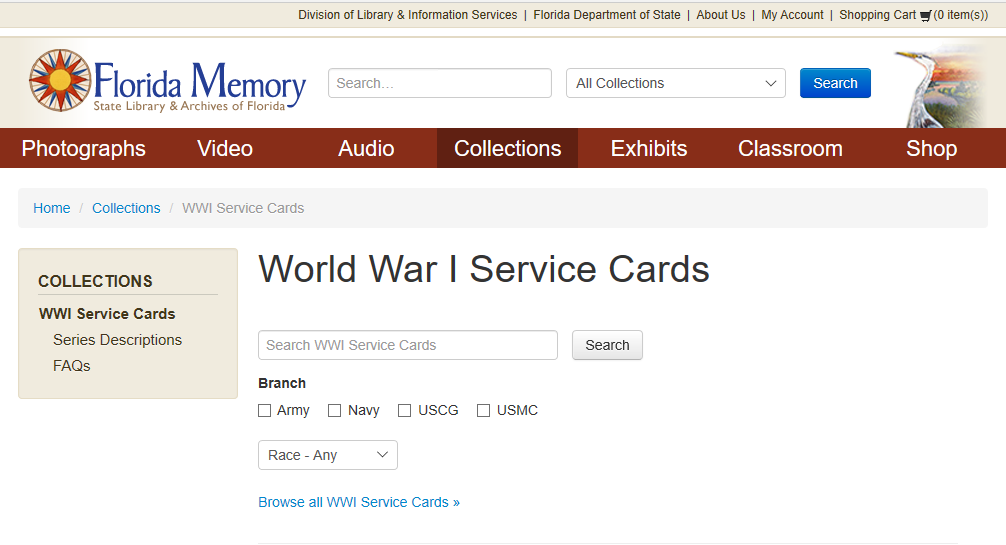 From this website you can search for a specific service member's card or browse all the service cards.
As an example, I searched for Frederick G Knowles, of the 51st Pioneer Infantry Regiment, Co. I.
There were no results for "Frederick G Knowles", so I tried "Frederick Knowles" and got two results. One of those was the record for him.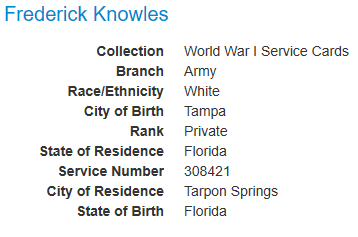 Clicking on his name brought me to his WWI Service Card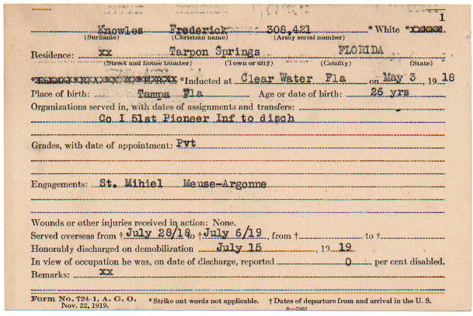 You can search all the services for your ancestor, or you can check a box to limit the search to one branch of service. Alternately, you can use the branch of service, then a colon (Army:) before the name to search. The database appears to be searchable by first names, ranks and place names. I did not have any success with wildcards, so you may need to generate alternate spellings to use if you cannot find your ancestor. Another tactic that worked for me was combining a first name and rank in the search box.
You can learn about the collection, including that the cards were created during a project in 1924 in the Series Description.
There is also a FAQ about the collection.
The website also has an online Exhibit about "Florida in WWI". The article gives context to the lives of Floridinians who fought over there, over here and post-WWI Florida.