Recently, I won auctions on ebay for a letter and some postcards written by a member of the 51st Pioneer Infantry. The letter was a pleasant, newsy conversation with the folks back home. The author mentioned the loss of his own Brother, his enjoyment of a pass to visit Coblenz on his birthday, and his goal of pastoral studies. At night he taught soldiers how to read and write. He mentioned his thoughts turning to his home "in the thick of the fight".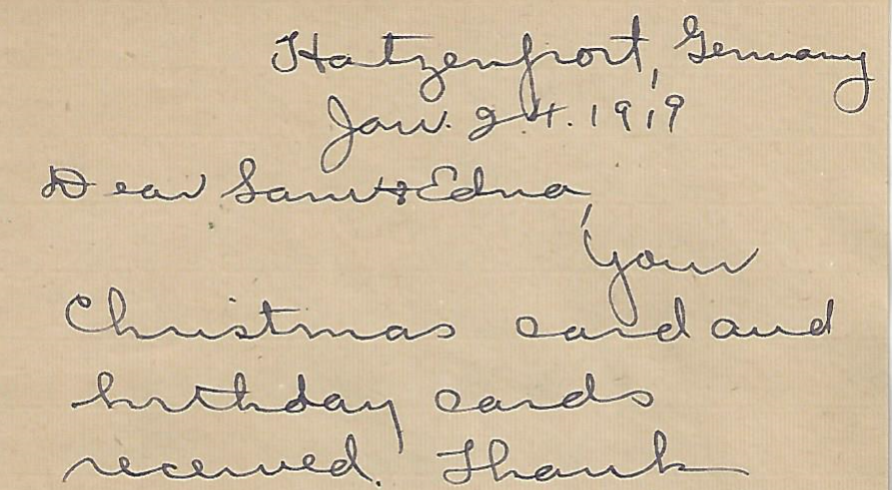 I decided to do some investigation into the author of the letter. Since he was not in my family, I decided that constructing a skeleton of his timeline would be sufficient. Had he been a family member, the search would have been taken farther, using more and varied sources. The sources and techniques I used are suitable for beginners, and demonstrate how much you can learn about an ancestor's life.
The first sources I used were:
New York State service summaries at Ancestry.com (New York, Abstracts of World War I Military Service, 1917-1919)
Census records
Newspapers
Google search
New York State Service summaries
At first I had a little trouble reading his handwriting. I have done enough transcription to know that you have to get to know the way letter are formed to decipher handwriting.

In this case, I knew that there would be a New York State Service Summary card for this veteran. These are most easily found on Ancestry.com, but they can be ordered from the New York State Archives. As an added check, I could compare the serial number he wrote on the letter with the one on the Service card. Cairo, NY, also matched the destination of the letter. I was able to use wildcards in my searches and came up with: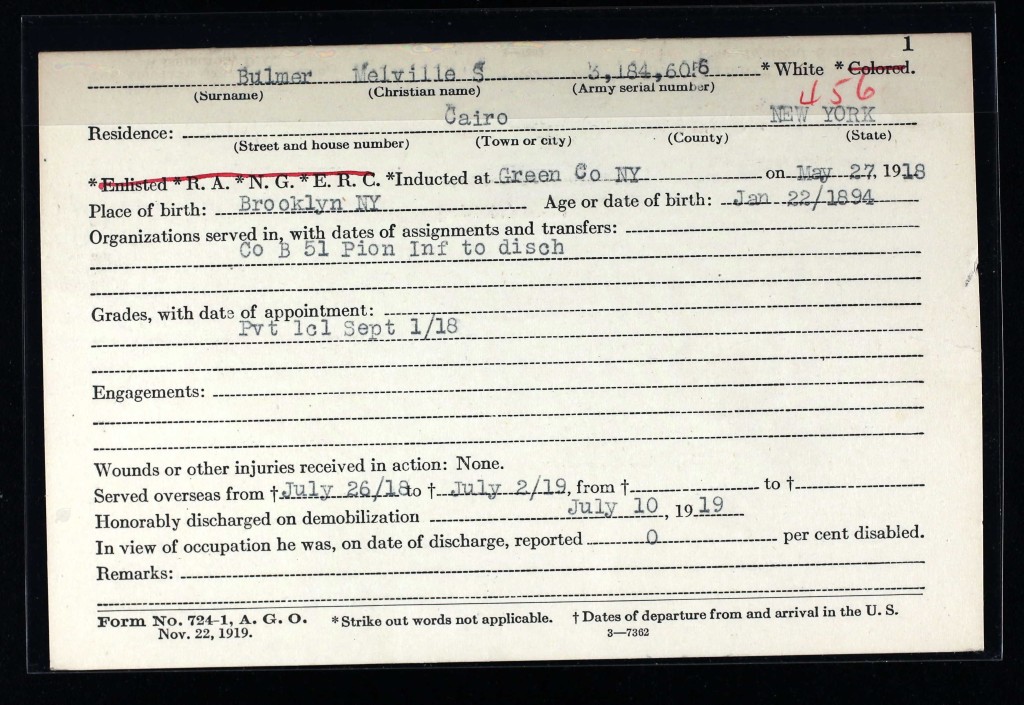 Some timeline dates extracted from this record are:
22 Jan 1894  – born
27 May 1918 – inducted
10 July 1919 – honorably discharged
The Census Records
Since I have a subscription on Ancestry.com, I was able to view the U.S. census records from 1900-1940, and the N.Y. Census records for 1905, 1915. I could not find him in the 1925 N.Y. Census, so I needed to find his location in that year to determine if he might be out of state.
The censuses are a wonderful backbone for a timeline.
1905 – living in Brooklyn, Kings, NY with his parents and siblings (May W, James W, Clarence H)
1910 – living in Cairo, Greene, NY with his parents and siblings (May W, James W, Clarence H)
1915 – living in Cairo, Greene, NY with his parents and two brothers (Wesley, Clarence)
1920 – living in Brooklyn, Kings, NY with his parents and one brother (James W), industry is export house
1930 – living in Ridgefield, Fairfield, CT with his wife, daughter and mother, occupation is clergman [sic], industry is methodist pic. [sic]
1940 – living in Stratford, Fairfield, CT with his wife and daughter, industry is clergy
From the 1930 U.S. Census, his marriage was estimated to be 1923.
Ancestry.com also had an index entry for his birth, which agreed with the date on his service summary.
22 Jan 1894 – born in Brooklyn
Newspapers
Ancestry.com
Several newspaper results showed up on Ancestry.com. I was conducting a search for vital information, so I selected a marriage announcement and a death notice. Since he was the pastor of a church, his name showed up as the officiant in some marriage stories.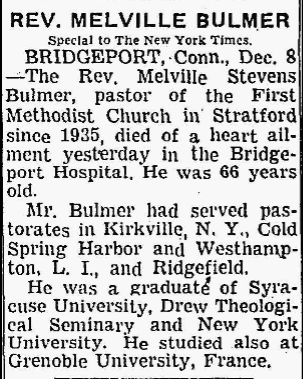 So I can add to the timeline:
7 Dec 1960 – The Reverend Melville Stevens Bulmer died
And several other items without dates:
Served pastorates in: Kirkville, NY, Cold Spring Harbor, Westhampton L.I., Ridgefield
Graduate of: Syracuse University, Drew Theological Seminary, New York University
Studied in: Grenoble University, France
Fultonhistory.org
This website contains U.S. and Canadian newspapers, including Brooklyn Eagle.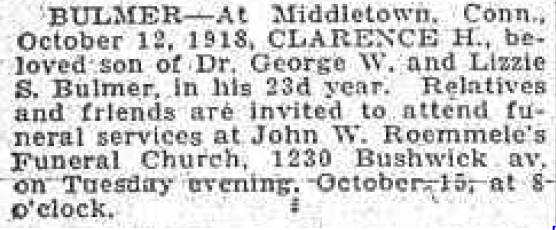 15 Oct 1918 – his brother Clarence Bulmer died
An online family tree suggested that he died of influenza.
Ancestry.com Yearbook Collection
1919 – The school yearbook of Syracuse University, The Onondagen, lists him as a Junior. It had a picture of him.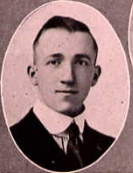 1920 – He is listed in the Syracuse University Service List.

Other Vital Records
Indexes to New York vital records can be found at: http://italiangen.org
I was able to search for Melville Bulmer in the Grooms Index, and cross referenced it to the Brides record.
4 May 1923 – marriage to Bertha Margaret Whiting
Google
Through a few Google searches, I learned more about Melville Bulmer. He was a:
Pastor in Westhampton, NY
Pastor in CT
He was mentioned in a page about the 300th anniversary of Stratford, Connecticut. There was a picture of him on the page, but it was a small one of him sitting on a stage at a presentation.
One result included a short biography which mentioned his and a chapel named for him. He and his wife both died in 1960. The Stratford United Methodist Church named the Bulmer Memorial Chapel for him.
1935 – 1960 Rev. Melville Bulmer, Senior Pastor, Stratford United Methodist Church
So we can add to the timeline:
1923-27 Pastor at Westhampton United Methodist Church in Westhampton, NY
1935 – 1960 Rev. Melville Bulmer, Senior Pastor, Stratford United Methodist Church
1960 – he and his wife passed away
He graduated Syracuse University cum laude.
After graduation, he worked in the financial department of the American Trading Co
He graduated from Drew Seminary
1953 he was ordained
He received a Master's Degree in Social Psychology from New York University.
He preached in Methodist Churches in:
Northampton, NY, Ridgefield, CT, and Stratford, CT
Going Deeper
If he were my ancestor, I would search deeper by examining more sources:
Birth, marriage and death records in the appropriate archives
City Directories
School yearbooks
Back to NARA for additional information in RG165
Contacting the Churches where he served as Pastor
Connecting with other descendants through online family trees
Finding the newspaper and article he mentioned in his letter
Save
Save