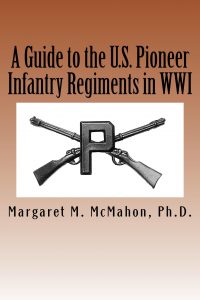 The Pioneer Infantry Regiments are usually mentioned in passing, or in the footnotes of history. The Pioneer Infantry were similar to regular army troops in that they were trained in infantry tactics, but they were also trained in combat engineering. Twenty of the thirty-seven Pioneer Infantry Regiments were filled with African-American soldiers.
This book contains material common to all the Pioneer Infantry Regiments. For each Pioneer Infantry Regiment, there are origins, important dates, and training locations. Sailing dates and ship names are given for those regiments that served overseas. Battle participation is included for those regiments that saw combat. When available, other material about each regiment has been included. Additional sources are listed for each regiment, as is material relevant to all of the regiments.
"They did everything the Infantry was too proud to do, and the Engineers too lazy to do."
Reviews
"Pioneers' infantry regiments were formed during the World War I Era to serve as road maintenance troops but were often used as labor for anything that needed to be accomplished.  Dr. McMahon has compiled a very useful listing of the pioneer regiments that were both constituted and activated in the American Army during 1918 to 1919. Hers is the second title that has been written on these unique regiments, complementing Moses N. Thisted's Pershing's Pioneer Infantry of World War I long out of print account of their service. Dr. McMahon has focused her research on providing a information on each of the 37 Pioneer Infantry regiments activated, including 20 comprising African-American soldiers.  She provides a snapshot history of each regiment including the date of organization,  inactivation, where they served, and units they were assigned too.  Especially useful for the World War I historians are the mention of  source records for each and bibliographic citations for unit history titles that were printed for a number of them, including her own title concerning the 51st.  Researchers will find this volume invaluable in locating information about these often overlooked troops. It is great  addition to Thisted's title and deserves to be in every World War I library." – J. Controvich
"My grandfather served in the 809th Pioneer Infantry and served in France. What a delight to read a book that describes the duties performed by these brave men. Dr. McMahon has documented these regiments so well, and it is comforting to know that the story of these little known and often overlooked men have been discussed and given to the public to learn of their history! I strongly recommend that those with an interest in the Pioneer Infantries of World War I, obtain this book for their library and explore the legacy of these men who served with honor!" – AYWalton
A Guide to the U.S. Pioneer Infantry Regiments in WWI can be found at:
https://www.amazon.com/Guide-U-S-Pioneer-infantry-Regiments/dp/1727742710
Please contact us for discounts for multiple orders.